How to Start a Blog in 2023
Are you looking for a step-by-step guide to starting a blog?
This page's step-by-step instructions will show you how to establish a blog using only basic computer abilities.
You will have a gorgeous blog that is ready to share with the world after following this instruction.
This guide is designed just for newcomers. I will teach you through each step , with many of photographs and videos to help you understand all things to start a blog.
Hi,I am Chandan and I will show you how to get started blogging right away. Since 2018, I've been creating blogs and websites. In that time, I've started several blogs of my own and assisted others in doing the same.
I understand how frightening and overwhelming beginning a blog can be. This free guide to blogging for beginners will show you how to start a blog with only the most basic computer abilities. So, whether your age, you can start a blog easly.
Read Also – Best Free Blogging Course for Beginners in 2022
I'm not ashamed to say that I made a lot of blunder mistakes when I initially started learning how to establish a blog. You can learn from my more than a decade of experience to avoid making the same mistakes when starting your own blog. This free guide was developed to help a complete beginners learn how to start a blog quickly and effortlessly.
So, how do you get started with a blog?
Follow these instructions to learn how to Start a blog.
How to Start a Blog in just 6 Steps
1. Choose a blog name
2. Buy your blog online
3. Design or Customize your blog
4. Write & publish your 1st Content/Post
5. Promote your blog
6. Monetize your blog
Do you want to Start a Blog?
One of the common misunderstandings about beginning a blog is that you must be a fantastic writer. The opposite could not be further from the truth.
People read blogs to obtain a personal viewpoint on topics, thus most bloggers write in a casual, conversational tone. Many successful bloggers will write about a variety of topics on the same site due to the format.
Furthermore, to have a great blog, you do not need to be an expert on any of the things you write about. Visitors to a cooking blog, for example, don't want to read a textbook written by a food scientist; they want to hear about someone who has created real meals, faults and all.
Read Also – What is a Blog? Best facts about Blogging in 2022
To be a successful blogger, you just need one thing: a passion for your subject.
Blogging is all about sharing your knowledge with the rest of the world. Writing about subjects you care about makes beginning a successful blog much easier. Your passion will come through and keep your visitors intrigued as long as you write about topics that you actually care about.
So, why would you bother with blogging? There are several causes for this:
Share your story

Make money from home.

Recognition for yourself or your business.

Find a community.
What is a Blog anyway?
In a nutshell, a blog is a website that focuses mostly on written content, sometimes referred to as blog entries. We commonly hear about news blogs or celebrity blog sites in popular culture, but as you'll discover in this article, you can establish a successful blog on almost any topic.
Bloggers frequently write from a personal standpoint, allowing them to connect with their readers directly. Most blogs also have a "comments" section where readers can interact with the blogger. Interacting with your readers in the comments section strengthens the bond between the blogger and the reader.
The good news is that the internet is currently experiencing explosive expansion. There are more people online than ever before. This rapid expansion translates to more potential viewers for your blog. In short, if you've been considering creating a blog, there's no better time than now.
Let's Create/Start a Blog!
Step 1 : Choose a blog name
It is very important part of blogging .You have to select a domain for making a blog.
How can I purchase a domain name?
You won't have to worry about performance and other issues with domain names as we did with web hosting.
Almost every registrar provides the same service at similar pricing, with the exception being when you want to renew your domain name.
However, NameCheap is my preferred provider because it provides excellent service at a reasonable price, and I presently host many domain.
Types of Domain Name?
.com : The most popular and oldest domain extension for commercial purposes.

.org : Only appropriate if you plan to create a blog for a charity or government organisation. It is only suggested for networking and business-like communication.

.in : This refers to India and is only used to target Indians.

.us : This refers to the United States and is only used to target Americans.

.co : This refers to Columbia and is only used to target Columbians.
This is how domain name looks like:
Question – How .com Domain is Important for your Blog?
Have you noticed that your mobile keyword includes.com? Yes is the answer.
Isn't it true that if two sites with the same title appear in Google SERPs, one with.com and the other with.xyz, you should click the one with.com?
Every keyboard is preloaded with.com because.com now resembles a website such as Google as the internet, and you type.com than of any other domain extension by default; this is human psychology.
According to a recent MOZ study, Google does not distinguish between.com and.net, but the user does, and this has an indirect impact on your search engine ranking.
How to Choose a Blog Topic
There are a few strategies to come up with a decent blog topic if you don't know what to write about: Start a Blog
Experiences throughout life – Everyone has gained lessons from their life experiences. Sharing this understanding with others in similar situations can be quite beneficial.
For example, I recently assisted a woman in starting a blog about her life as a firefighter's wife. She has a wealth of experience and expertise to contribute on this subject, and it has aided her in connecting with others in similar situations.
Consider the events that have occurred in your life. This could be about your family (for example, a blog about being a stay-at-home parent), work (for example, a blog about client interactions), or other life events (a blog about dealing with a troubling time such as a disease or divorce, or about a happy time such as preparing for a wedding or a birth of a child).
A personal Blog – Personal blog is one that is entirely about you. This will cover a wide range of topics, from daily activities to random thoughts and musings. This is a fantastic method to share your opinions with the rest of the world without having to limit yourself to a single topic.
Passions and Hobbies – Hobbies or other activities in which you are enthusiastic are a good place to start. Classic examples are cooking, travel, fashion, athletics, and automobiles. But, because your audience is basically anyone with access to the internet, even blogs about unusual hobbies can be popular.
Step 2 : Buy your Blog Online
You'll need two things to get your blog up and running: blog hosting (also known as web hosting) and blogging software. The good news is that they're usually sold together.
A blog host is a corporation that stores all of your blog's files and makes them available to users when they enter in your blog's name. To have a blog, you must first have a blog host.
Types of Web Hosting?
Webhosting has been classed into various sorts based on the features given and the website traffic handling capabilities, however the major varieties you will notice by every hosting provider firm are listed below.
Shared Web Hosting

Dedicated and VPS Web Hosting

WordPress Managed Web Hosting

Cloud Web Hosting
How to Buy Best Web Hosting?
Although there are over 50 best hosting provider providers, just a few give the greatest services at a reasonable price.
In this list, the three items below are my top picks in terms of popularity and affordability.
Hostinger (Best for Beginners)

Bluehost (Best for Professionals)

A2 Hosting (Best for Professionals but Expensive)
1. Hostinger Hosting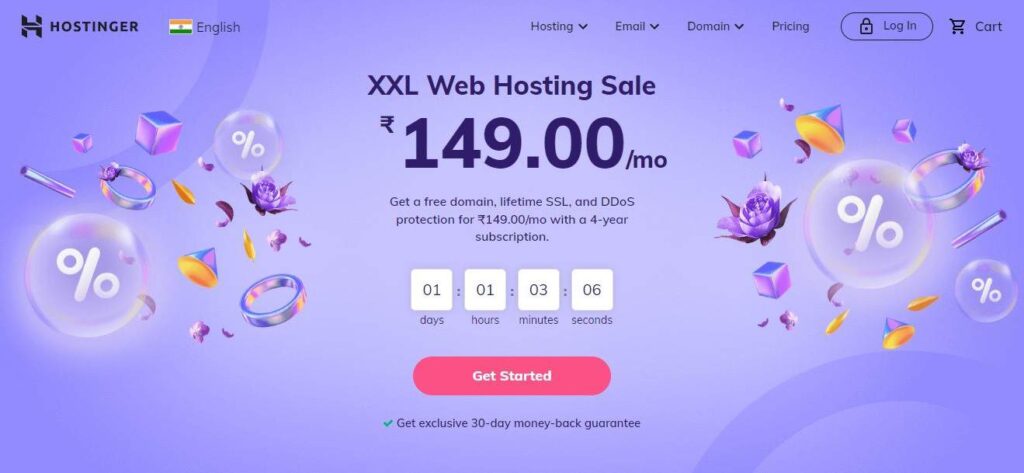 With an automatic 1-click WordPress installation, you can get started right away. LiteSpeed caching and extensive optimization are used in the backend to ensure that your websites are fast, dependable, and secure.
Best Plan for Beginners (Start a Blog)
Features (Start a Blog)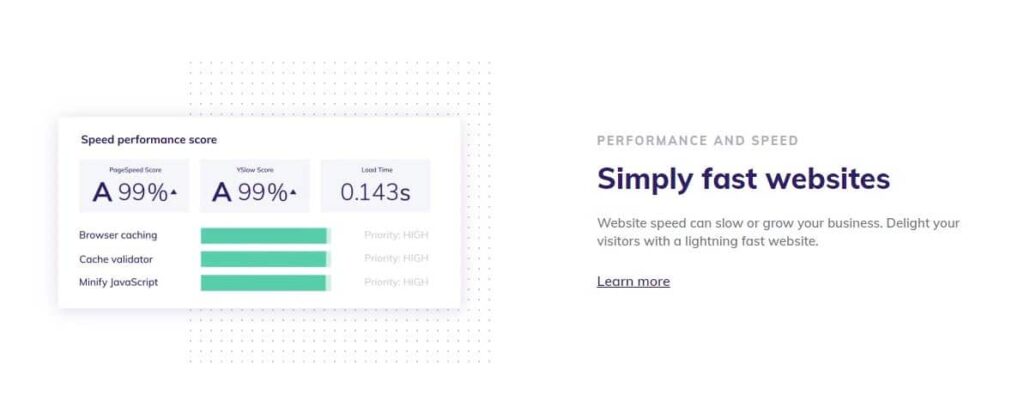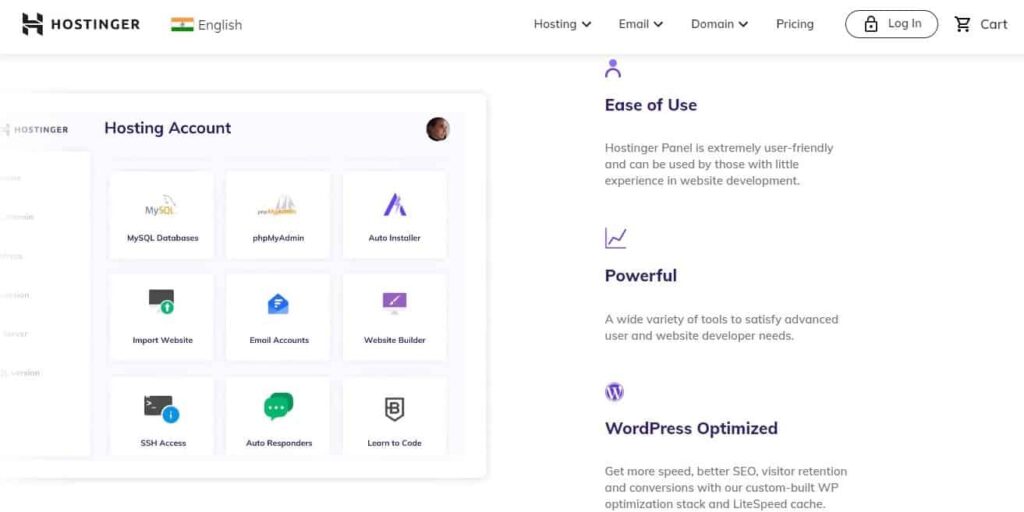 2. Bluhost Hosting
When you sign up for a Bluehost web hosting service, we'll install WordPress for you instantly. Because of our customer service and experience, WordPress has endorsed Bluehost since 2005.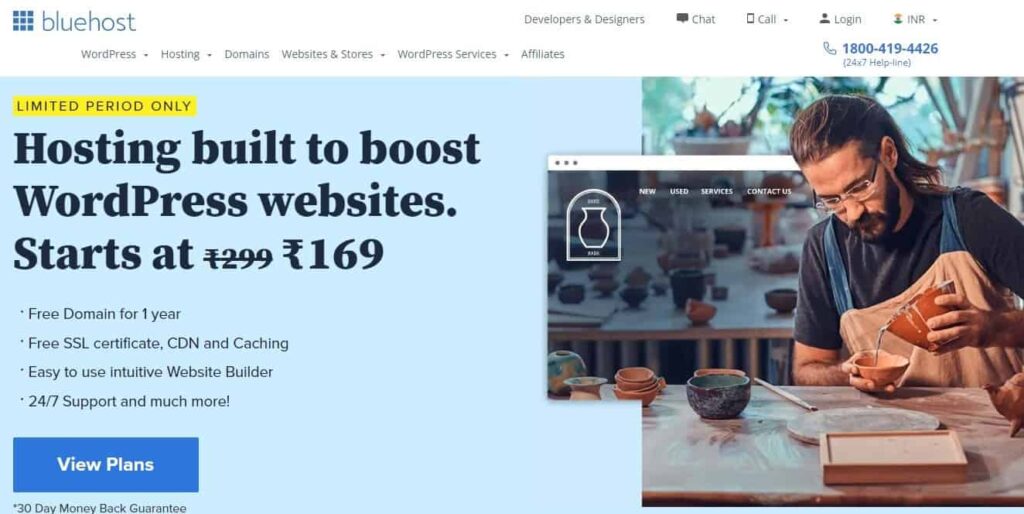 We continue to provide dependable and economical WordPress hosting, as well as products, resources, and support to assist our customers in successfully managing their websites.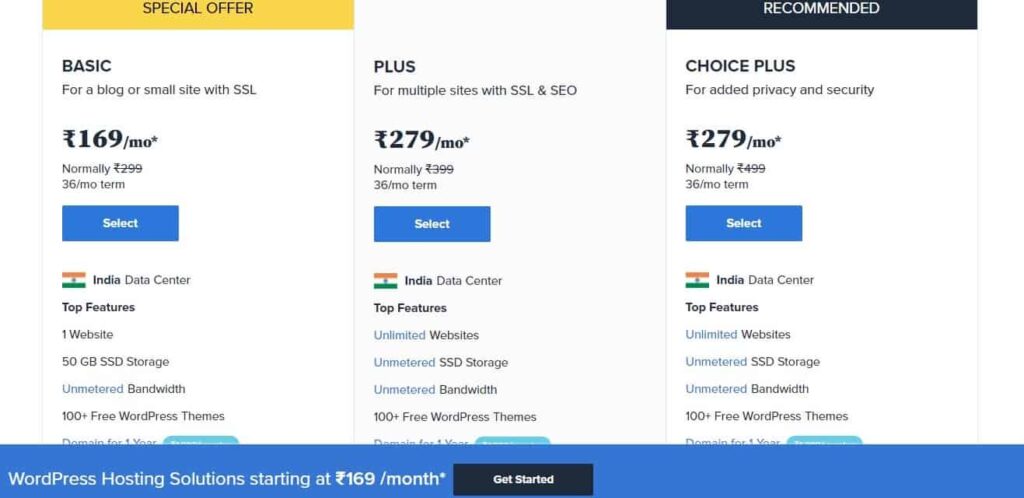 You don't have to worry about getting the right version of WordPress since Bluehost always instals the most recent version so your website has the most up-to-date features.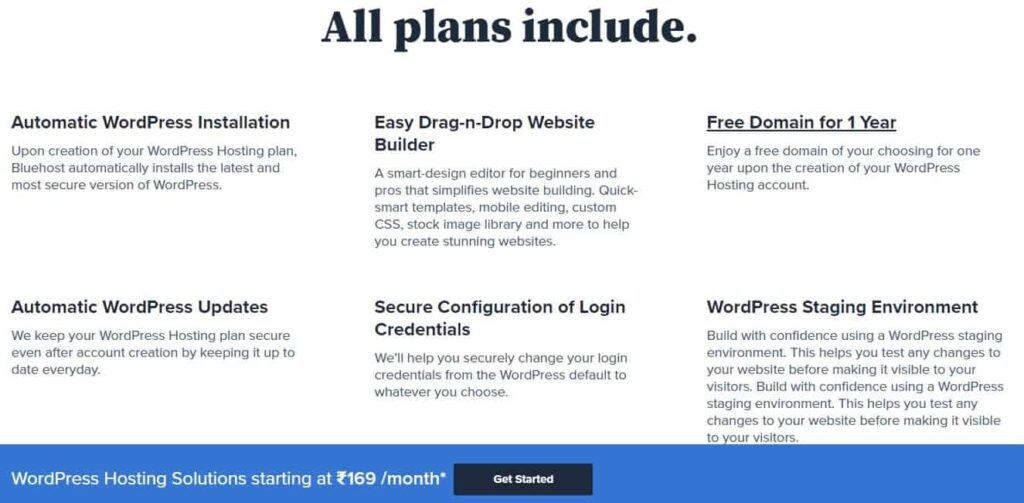 BlueHost is the web host I recommend and demonstrate how to use in this article. I personally use BlueHost and highly suggest them to all new bloggers for the following reasons:
They will register your bespoke domain name for free, ensuring that it is not taken by anybody else.

If you are unhappy for any reason, they offer a 30-day money back guarantee.

They provide a free, automatic WordPress installation (which I show you how to use in this guide).

Since 2005, they have provided dependable web hosting that has been recommended by WordPress, and they now host over 2 million blogs and websites.

They provide helpful customer assistance via phone or web chat around the clock.
Step 3 : Design or Customize your blog
Here is the given process for blog customization – Start a Blog
1. Logging in (Start a Blog)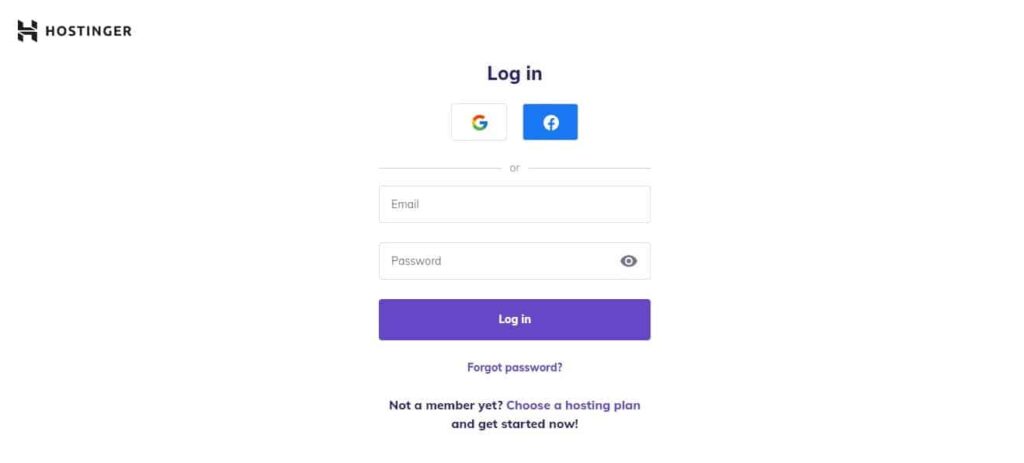 2. Changing your blog design (Start a Blog)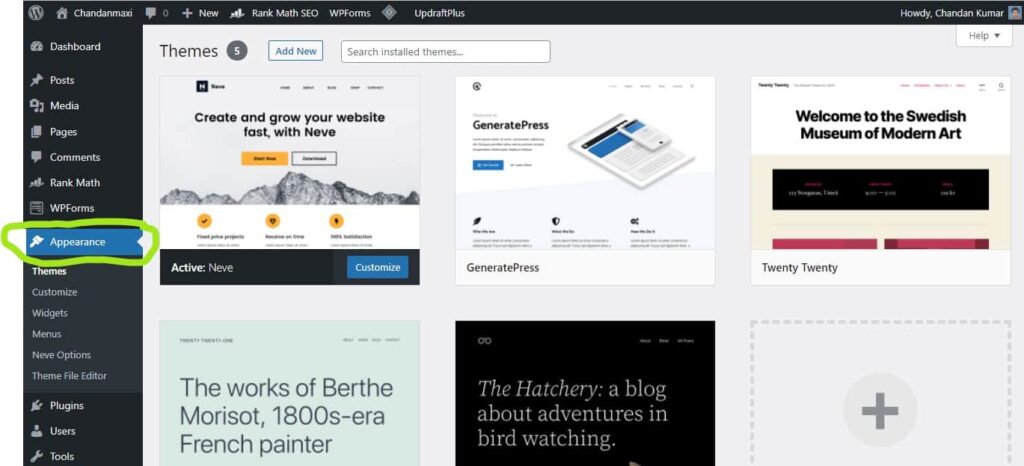 3. Menu creations (Start a Blog)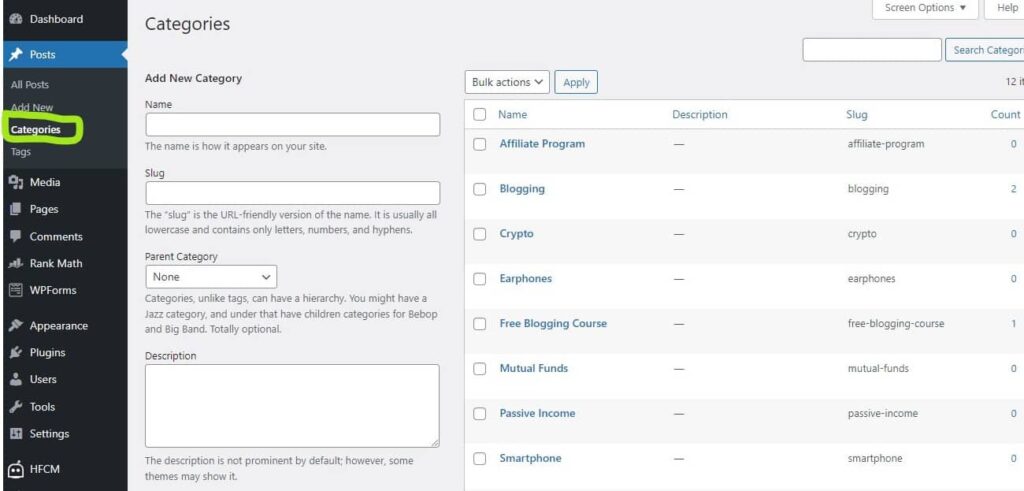 4. Catagories Creations (Start a Blog)
5. Theme (Start a Blog)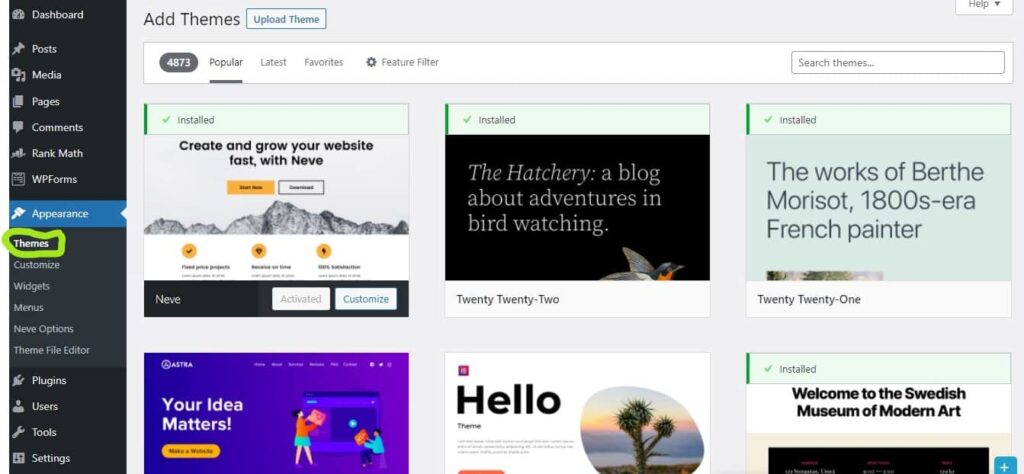 6. Plugin (Start a Blog)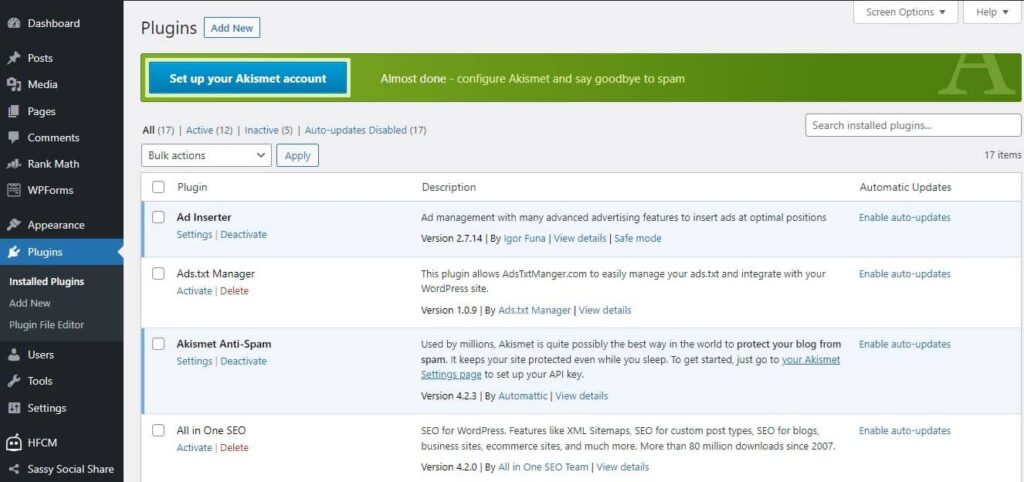 Step 4: How to create and publish a new blog post
It's time to start blogging now that your blog is up and running! Let's get started on creating your first piece of content.
Select "Posts" from the left-hand menu. Then click on Add New then you are now post editor page.
(Start a Blog) – You can write here anything about on your niche.
Some Tips
Create impactfull heading

Upload image with less size

Do on page seo

Insert link to get more engagement

Content must be user friendly and readable

Content must be more than 1000 words for seo and compition
Content That Should be on Your Blog
Static Content: Your blog should have a few essential pages that are specifically created to give visitors the resources they require. The content on these pages is static, which means it does not change frequently, if at all. These are usually top-level pages that may be accessed from your blog's navigation.
These static content pages should be in place before you go public with your blog. Include the following static pages:
About us

Contact us

Disclaimer

Privacy Policy

Terms and conditions
How to write great blog content
Each article should be long, informative, and interesting. It can be difficult to come up with new blog post ideas on a regular basis, and you can vary the tone and even the topic matter to keep things lively and intriguing. After all, it's your space. However, there are a few components that should be included in every piece of material.
Establish the Content

The longer the better, but don't forget to break it up

Engage the audience

Original Material

Original Images

Improve Your Work
Getting Your Blog Published
Even after you've published a post, your blog may still display a blank page.
When you're ready to make your blog public for the first time, go to your WordPress dashboard, pick the "Hostinger" option, then click the blue "Start" button to remove the placeholder page and launch your blog.
Congratulations! You now know how to create and post material on your own blog!
Step 5: Promote your blog
Having a well-designed blog and great content is only the beginning. You will need to spend some effort to promoting your blog in order to attract visitors, especially when you initially begin.
The methods listed below will assist you in getting more people to read your blog. You don't have to employ every approach; test a couple and see which ones work best for you.
Make Your Inner Circle Aware
Your personal circle should be the first to learn about your blog. This includes relatives, friends, and coworkers in your field. Encourage them to follow you, encourage them to mention your new blog, and thank them.
Use Social Media Plateform
You should still make accounts with the "biggies" like Facebook, Twitter, YouTube, Pinterest, and Instagram, even if you don't want to go overboard. On your accounts, you should include a link to your most recent content, but you can also include pertinent news and links to other sites that your viewers would find interesting. Remember to use hashtags and interact with your audience!
Posting links to my blog on social media sites like Facebook and Twitter is one of my favourite strategies to attract readers. This is fantastic because not only will your friends see the link, but if they share it with their friends, your visitor count will automatically increase.
Other Blogs: Leave a Comment
Engage with other local blogs like BEDFORSELL . Introduce yourself and provide relevant and constructive comments using the comment area. You'll be able to leave a link to your blog on many of them. You'll swiftly rise through the ranks of popular bloggers in your neighbourhood after establishing ties with them.
Get to Know Your Visitors
Always respond to your readers when they leave comments on your blogs. Respond to their queries and remarks with "likes" and affirmations. Visitors are naturally encouraged to return when it is clear that the author cares about his or her community and readers.
Team up with other bloggers.
Collaborate with recognised members of your profession to become more integrated within your blogging community. Guest writing, supporting one other's blogs and products, and routinely connecting through comments and social media are all examples of collaboration.
Regularly update your blog
Regularly publish stuff. Establish and stick to an editorial calendar. To begin, a good blogger should publish once a week. Your followers will dwindle and your growth will be significantly impacted if you have large gaps between posts. It is difficult to stick to a posting schedule, but it is essential.
Create an Email List
You'll want to ensure that your current visitors return to your blog in addition to attracting new people. Here's when email marketing comes in handy.
You can alert your readers when you submit new content on your blog by collecting their email addresses (with their consent, of course).
This encourages people to return to your site, which not only increases your readership over time but also allows you to develop a closer relationship with your visitors.
Make your blog search engine friendly
You want your blog to show up in search results right away.
Open the Google Search Console after creating a Google Webmaster account. To add your blog, go to "Add Property" and follow the instructions.
Bing: Create a Bing Webmaster account and link your blog to it.
The first stage in the search engine optimization process is to submit your blog (SEO).
Keep in mind that the initial traffic to a newly new blog will be low. This will, however, alter with time if you continue to post useful and instructive content on a regular basis.
Each page of your blog should contain the following basic elements to optimise this process:
Header Tags

Categorization

Permalinks
There are many other aspects to consider, such as using a WordPress plugin like Rank Math, Yoast, but these are the most important ones that will help you enhance your search ranks sooner rather than later.
Step 6: Monetize your blog
Making money from your blog is actually the simple part once you've put in the effort of developing outstanding blog material and promoting your blog.
Although blogs have the potential to be incredibly profitable, don't expect to start making money within the first week, or even the first month.
Starting to see a continuous stream of revenue could take anywhere from six months to a year. Blogging takes time and effort, but if you've built up a large enough readership, there are various ways to make money from your blog.
Offer ad space for purchase – Example- adsense,richads

Affiliate products can be sold – Examples- Amazon.com, Amazon.in, Banggod , Clickbank, Supreme Campus

Sell Services and Products – Website services,digital marketing

Digital downloads are available for purchase – Digital Products like ebooks

Memberships can be sold for a profit – free consultations, a private network etc..
There are numerous ways for a blog to profit from its fame and visitors. The method you use to monetise your blog is determined by your goals and the purpose of your blog.
Those offering services, physical items, or digital goods, for example, may not want to join in affiliate programmes because their traffic may be diverted to another site.
FAQs about Start a Blog
1. What makes a blog successful?
A blog's success is determined by your passion, originality, knowledge and skill, and contributions to the community. Your success is only limited by the amount of posts you can make as long as you give information that is fascinating, useful, and engaging to the readers you want to connect with.
Continue to write, communicate, and engage, and your blog will rapidly become one of the success stories. The sky is the limit as long as you're passionate about the subject.
2. What are the requirements for starting a blog?
Time, passion, and a clear aim are all necessary.
Blogging is almost a full-time job. A successful blogger commits to publishing long, detailed posts at least once a week. Promoting the blog on social media and through peer contacts should be done on a regular basis.
The passion with which you write your blog is also crucial. Your blog should focus around a topic that you are passionate about in order to consistently produce quality content. You don't have to be the foremost expert on the subject. All you need is enthusiasm, excitement, dedication, and sincerely held beliefs.
You must also have a certain purpose in mind. What is the primary goal of your blog? Is it to keep the people informed?
To finally keep paying customers? With a clear end goal in mind, you may build a blog that meets these objectives in the long run.
3. What should the topic of my blog be?
Answer the following questions: What interests you the most? What do you consider on a daily basis? What topic do you often irritate all of your friends, family, and coworkers with? What are you fantasising about these days? What do you find yourself researching all the time? What do you read these days?
If your responses to these questions have a common denominator, that is what your blog should be about.
Your blog should be about what you're interested in and enthusiastic about. And once you start building your blog, you will find a community of individuals that are interested in what you have to say, regardless of the topic matter.
4. How do I choose a profitable blog niche?
If you know the basic topic for your blog, refining the niche to remove competition is an easy method to make it more profitable.
Let's assume you're passionate about cooking and want to start by developing a recipe blog. You'll be up against a million other recipe blogs.
So let's condense the topic into something more manageable while yet being significant to many people. Making your blog's topic more precise can help you beat out the competition and rank higher in search engines for more specialised queries.
5. Where should you start your blog?
I show you how to set up your blog with Hostinger and WordPress.org in the tutorial on this page. A self-hosted WordPress blog is what I use and suggest to all of my readers. When you join up for Hostinger, you will receive a free domain name and WordPress (WordPress.org) will be installed on your account instantly.
As soon as your account is created, you may start blogging. By following the instructions in the tutorial on this page, you may simply personalise your self-hosted WordPress blog.
6. Do bloggers make money?
Bloggers can make a full-time living from blogging alone. Hundreds of thousands of dollars are earned by some bloggers. While becoming a well-paid blogger is not easy, it is achievable. It takes a lot of hard work and time, just like any other business.
After a few months, many bloggers abandon their project. When the money doesn't come in right away, which it virtually never does without the instant and immediate following that comes with being a high-profile figure, they feel discouraged. As a result, achieving "influencer" rank will take time and patience. Those that succeed online are those who are persistent.
A blogger can make money in a variety of ways:
Advertisements: As your blog grows in popularity and attracts a steady stream of daily visitors, advertisers may be willing to pay a premium for a well-placed ad on your site.
Contextual Adverts: Google Adsense allows you to post a little piece of code on your site that dynamically displays ads that are relevant to your content. The advertiser pays Google when one of your readers clicks on an ad, and Google sends you a percentage.
Affiliate Programs: Affiliate marketing programmes are a popular way to monetise a blog. These advertisements direct viewers to another website's product or service. You get a commission if a sale is made as a consequence of a click on your blog, and some commissions can be rather significant. Individual stores and large-scale platforms such as Amazon offer affiliate programmes.
Sponsored Posts: Instead of advertising on the entire site, advertisers can pay a lower amount to sponsor particular posts. This is an excellent way to monetize your new site.
7. How are bloggers paid?
Advertisers are the most common source of funding for bloggers. Depending on the type of adverts utilised, the blogger is compensated differently.
CPC (Cost Per Click) ads make cash by just clicking on them. CPC advertisements are usually highly targeted and rotated. Ads are relevant to the topic of individual blog entries and show on those posts. The amount you are paid is determined by the number of clicks you create, which tends to increase as your traffic grows.
Advertisers may pay a monthly fixed charge for ad space on a blog's website if the blog's traffic is strong. That ad space could be found throughout the website, in a segment, or on just a few pages. The money comes from the advertiser directly.
Affiliate links are used in ads from affiliate networks. These links track people who arrive at the advertiser's site via your blog. You will receive a commission if a visitor who came from your blog makes a purchase.
8. Should I start a WordPress blog?
Yes, self-hosting a WordPress site is the ideal option for you if you're new to blogging and don't have much knowledge with HTML or coding. When it comes to choosing a blogging platform, professionals prefer WordPress.
Despite the fact that WordPress is utilised by millions of smaller blogs, it also runs several of the internet's largest sites. WordPress is the most popular content management system (CMS) on the planet, with over 75 million blogs and websites utilising it. There are numerous causes for this:
Easy to Use

Blog Anywhere

You Don't Need To Know How to Code

Built-in SEO

Free Themes
9. What causes blogs to fail?
Almost any blog has the potential to succeed, yet the majority of blogs do not. There are numerous explanations for this. The following are the most prevalent reasons for a blog's failure:
Giving Up Too Fast

Intermittent Blogging

Poor Content

Too Many Ads
Conclusion
If any of the steps in this guide were unclear to you, you can discover a more detailed version of each step by using the menu at the top right of this page (or the bottom of this page if you're on a smartphone).
Thanks for reading…